Ballroom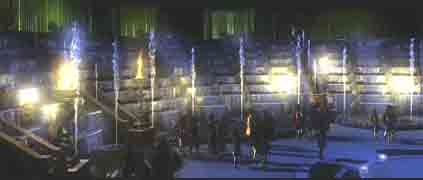 The big water-fall in eight levels is illuminated and there are fire-works to. You get many new friends who admires your courage to name duke d'Anjou as a possible heir to the Spanish throne.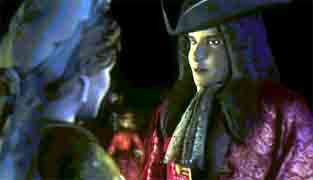 Suddenly Prospérine comes running.
She tells you that the old man who was to be her husband has died and now Madame de Maintenon threatens to put her in a convent.
When she notices that she is observed she hurries away.
Duke d'Arcueil has seen you together and confesses his interest in Prospérine and asks you to intervene for him.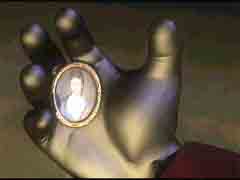 Duke d'Anjou also arrives and tells you that you have the King's permission to join the prince's team.
But someone is following you.
Without noticing you drop Elvira's locket and the pursuer picks it up.
It is Madame de Maintenon's valet who has been sent to guard Prospérine,
Now he hurries to bring the locket to Madame.


The Oueen's Staircase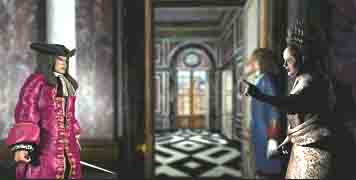 The next morning you are summoned to Madame. She shows you Elvira's locket and accuses you to be deceiving Prospérine You try to tell her that you are not courting Prospérine, your intention is to marry Elvira in Spain.
Madame gives you another day to prove this.
You have to show the evidence to her valet Vernhole as she herself has to go away.
If you is in disgrace with Madame de Maintenon your former friends quickly vanishes. This you will painfully find out while you walk downstairs. Everybody is scolding you, Dangeau, de Torcy, Prospérine and your new friends from yesterday.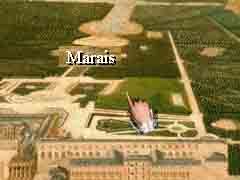 The only one you can still talk to, is d'Arcueil. He gives you the advise to talk to Castel dos Rios and ask him for the passport to show as evidence. This is the only thing that might save you.
He tells you the ambassador is in the gardens.
Since Marais is his favorite garden it might be a good idea to search for him there.
Walk down the stairs and you are automatically taken to the map. Choose Marais.
Marais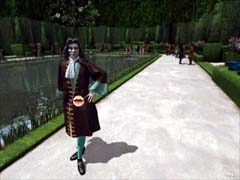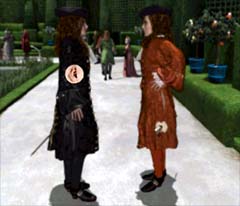 Talk to Dupuis. He gives you a plan of Trianon and asks you to give it to Castel dos Rios. He has to leave at once and don't want to disturb the ambassador.
Go to Castel dos Rios.
He is engaged in conversation with Sinzendorf. Listen to them.
They are discussing the grave situation in Spain and that Spain might take measures against France.
Don't interrupt the conversation. Wait until Sinzendorf leaves.
Then give the plan to Castel dos Rios. At the same time you ask him to give you the passport.
The ambassador says that you did well waiting for Sinzendorf to leave else he couldn't have given you the passport. He also tells you he is worried because letters from Spain are interrupted. This worries you too as you are waiting to hear from Elvira.
The ambassador tells you to talk to the riders and ask them for more informations.
Exit the gate to the map and choose Grandes Ecuries.
(If you interrupt the conversation you will be dismissed. Exit through the gate and you are returned to your room where you write your resignation.
There is a knock at the door and the ambassador arrives with your passport.
He tells you about the missing letters and tells you to check it with the rider.
Go to the map and choose Grandes Ecuries.)